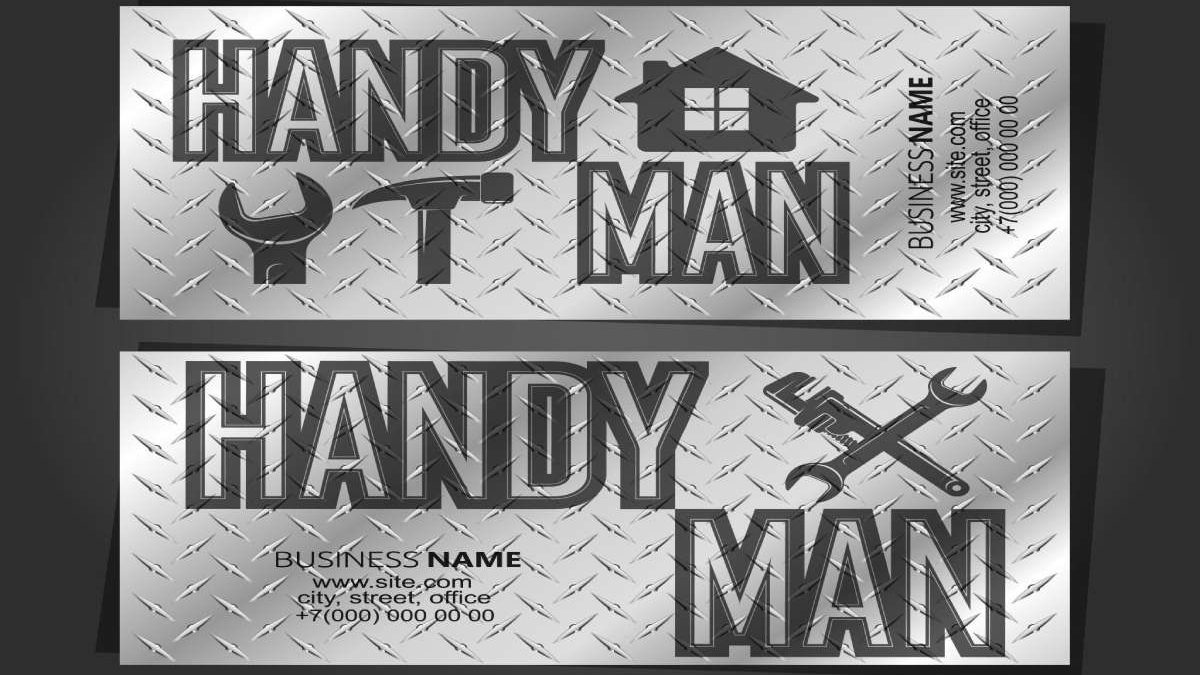 Introduction
Handyman business cards are a recognized marketing tool, whether you're starting with a side hustle or expanding your physical business card. The first interaction a customer often has with your brand, so beyond thinking of your business in a certain way, it should contain relevant information. Therefore, the first question is, "what goes into a business card" when creating one?
It's a good idea to have a simple business card as soon as you start any new business to provide any service. Even if you don't have a logo idea yet, you should have a card that includes your name, phone number, occupation, and email address, at a minimum.
Business cards are beneficial for marketing your business. Giving them to every customer increases the chance that they will call you back, and word of mouth is encouraged as a referral.
What is Handyman Business Cards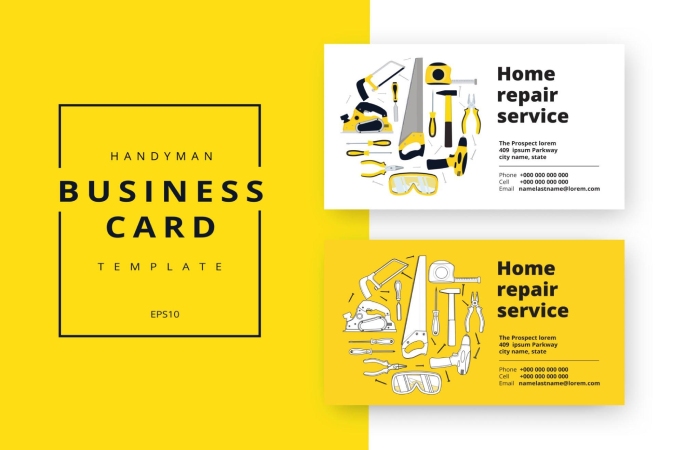 Logo
Company Name
Tagline
Your Name and Title
Contact Details
Your Address – Online or Physical
Social Media Handles
A QR code
Logo on Handyman Business Cards
Logos on handyman business cards will represent a specific organization or business through a visual image that can be easily understood and recognized. A logo usually involves symbols, stylized text, or both. Logos are often created by a graphic designer in consultation with business and marketing experts.
As an essential part of an organization's identity, a logo should communicate the essence of a company's brand or what the organization stands for. This makes logo design an essential job for a graphic designer and is often a creative process that requires a lot of research and consultation. In addition, cultural differences in symbolism or color associations should be considered for international organizations.
A logo is not meant to explain or directly sell a business. Instead, its sole purpose is to identify the company memorably and familiarly. For example, Apple uses a bitten apple as its logo. The bitten apple in no way explains what the company does or sells, but it is distinctive and recognizable.
A logo is meant to be long-lasting as it is intended to familiarize customers and promote brand loyalty. As a result, logos are usually not redesigned very often.
Company Name on Handyman Business Cards
Although your logo is the key element of your brand uniqueness, you should add your company name to your handyman business cards. And give it plenty of space: your name is what people are likely to remember, so it's an essential handyman business cards detail. Generally speaking, your business name should be the most comprehensive text on your card. In addition, you want to make sure you spell out the complete name of your business so people immediately know what your business is about.
For Example, Print Waves PVT.LTD instead of PW.PVT.LTD
The Tagline on Handyman Business Cards
A tagline is a short, easy-to-remember description that clearly and briefly communicates the brand's message.
This short description acts as the brand tagline and builds brand personality, which in turn helps establish brand positioning in the market.
Suppose you have a Tagline or Slogan for your business. So include it on your handyman business cards. If you don't have an official tagline or slogan, create one by briefly what you offer in a few words; this can be particularly useful if your name is not self-explanatory. For example, Stratton Design uses the slogan "Website Design and Hosting" on its business cards to communicate what it specializes in. These few words are professional, honest, and focused on their basic service.
Add Your Name and Title on Handyman Business Cards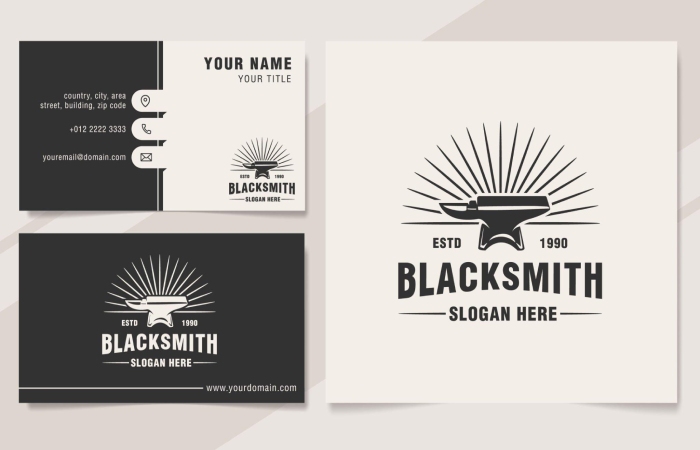 Create a personal link to your business, and add your full name, handyman business cards, and title. Including your title is a great memory booster; some people are more expected to remember you because of your area of expertise, and business card information is crucial. You can also add a headshot if you feel relevant to your industry. Putting an image is a great way to show the person behind the company, primarily if you work in a customer-facing role. Photo business cards are great for professionals like real estate agents and photographers.
Add Contact Details on Handyman Business Cards
The contact details on your business card should contain your email address and phone number, essential information for handyman business cards; this is how most people will contact you.
Mention Your Address – Online or Physical on Handyman Business Cards
Remember to include your website address and that consistency between your handyman business card design and your website is essential. When a possible customer visits your website after seeing the URL in your business card, the experience should be consistent, from font choice to color scheme. Adding your address is key to increasing foot traffic if you operate from a physical location. Run your business entirely virtually? You don't need to comprise a mailing address if you don't expect foot traffic; leave it outside to save space.
Add Social Media Handles on Handyman Business Cards
Social Media Handles are usernames you choose for each social media channel. They start with the "@" symbol to make it easier for other users to find or tag your business on social platforms. Each social media account has a social media ID, so your chosen social ID will be unique to your business.
Add a QR Code to Your Handyman Business Cards
A QR code is a kind of barcode easily read by a digital device and stores information as chains of pixels in a square-shaped grid.
If you are out of space on your cards? Think of adding a QR code so customers can easily find additional information about your hours of operation, special offers, or your small business history. Again, this can be on the back of your handyman business cards as additional information.
Conclusion
Wherever you decide to create handyman business cards, make sure you have them. They are an inexpensive way to help you fill your schedule. If money is tight, go for the primary option. A cheap business card won't hurt your professional image in the eyes of most clients or customers and will be much easier on your wallet.
Suppose you have the money and are targeting a high-end customer. In that case, a higher quality business cards can be another small way to set yourself apart from the race and send a message that you offer higher quality service.
Helpful Resources