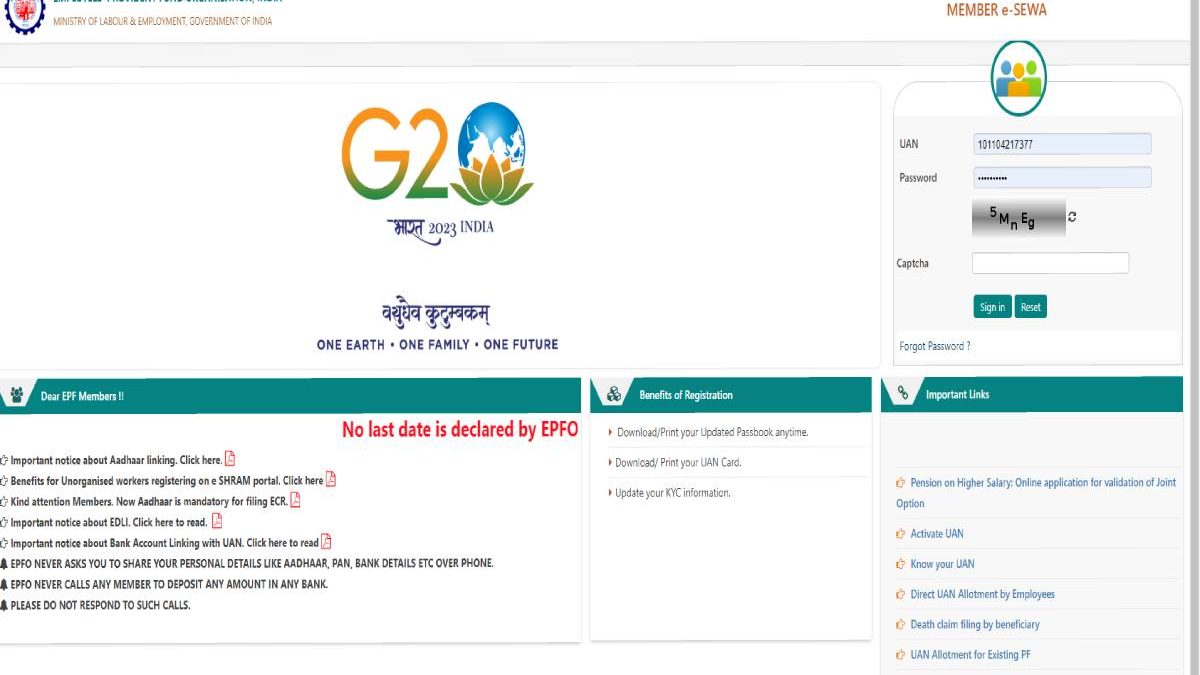 UAN E Sewa Portal – UAN (Universal Account Number), a 12-digit number assigned by the Department of Employment and Labor, Government of India, is made available to every member of the Employees Provident Fund Organization (EPFO) through which manage their PF accounts. You become a member of the EPFO if you have to pay a compulsory contribution as an employee.
As indicated above, each beneficiary of the Employee Provident Fund (EPF) program has been assigned a Universal Account Number (UAN). This 12-digit number allows employees to connect all their PF accounts at different organizations and access them on a single platform, the UAN login portal.
On this portal, EPF member can find their KYC data, service registrations, UAN card, etc. The transfer and payment of pension fund amounts have also become easier with the e-Sewa portal for EPF members.
What is UAN E Sewa Portal?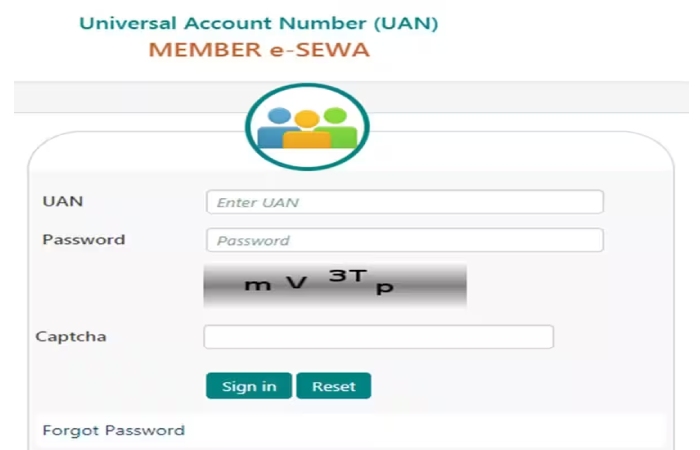 The UAN Member E-Sewa portal is a one-stop resource for accessing EPF requests and using services online.
What is the UAN Member Portal?
On the E-Sewa portal for UAN members, you can find a variety of information about your PF contributions and perform various activities through E-Sewa portal, such as:
Any organization with more than 20 employees is required by law to register online with the EPFP UAN. Registration requires a unique user ID and password to access the portal and its features.
The portal through which you can access our EPFs through our UAN is the EPF e-sewa Portal. To access the portal, the link is https://unifiedportal-mem.epfindia.gov.in/memberinterface/
Let's review the EPF UAN New registration process for the EPF e-sewa portal.
What is UAN (Universal Account Number)?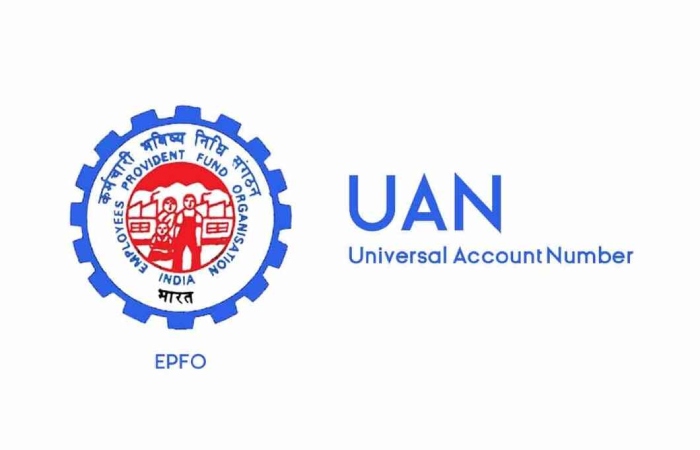 UAN stands for Universal Account Number, a unique 12-digit number assigned to each member of the Employees Provident Fund Organization (EPFO) to access and manage their PF accounts easily.
Employees can access and manage their PF accounts, including KYC details and their service details, on the UAN e-Sewa portal.
The Registration Process in the E-Sewa Portal for Members of the UAN
You must first activate your UAN before logging into the E-Sewa portal. You can get your UAN number from your employer or through our payroll. Then you need to follow the steps below.
In the Important Links section, click Enable UAN.
Then enter your details. After entering this information, you must click "Get Authorization PIN."
The PIN will be directed to your registered phone number linked to EPFO.
After receiving the PIN, you must enter this PIN to activate your UAN account.
A system-generated password will be resent via SMS to your registered mobile phone number.
It is strongly recommended to change this password after successful login.
How do I Register a UAN for a New Employee?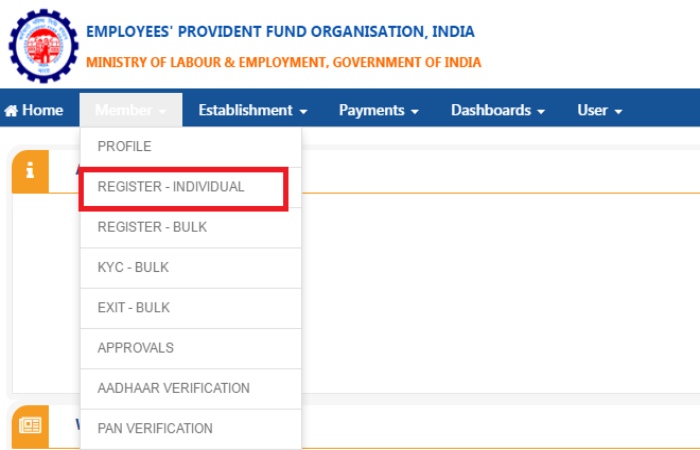 Any company with over 20 employees must complete the EPF UAN registration online. For a person who has started working for the first time, the institution must create a new UAN following the following procedure:
Go to the employer portal.
Sign in with your company ID and password.
Go to the Members Area and select "Register Individual."
Enter all the employee details, like Aadhar card, PAN, & bank details.
Approve all the particulars and a new UAN will be generated.
This UAN can now be linked to the new employee's PF account through other EPFO online services.
How do You find out Your UAN?
Reviewing payslips from previous jobs is the most straightforward approach to finding UAN. The person's UAN is usually recorded on the payroll. The alternative is to contact your previous employer's human resources department, as they will keep a record of your UAN information. The person must select the option to know their UAN on the screen.
Importance of the UAN for Employees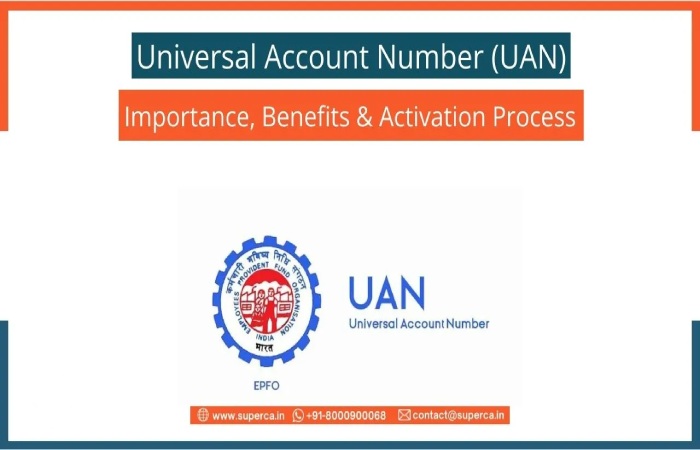 UAN is essential for several reasons. They are the following:
The individual UAN remains the same until an employee retires.
The UAN is obliged to verify payments and credits in the PF system.
People can use UAN to receive and transfer cash without relying on their employers.
Employees can access their PF accounts free of charge through online processing.
With UAN, employees can keep track of their monthly payments. However, the employee must be registered with the EPFO.
UAN Benefits for Employees
As a global number, UAN allows users to consolidate all their PF funds associated with multiple IDs from different organizations in one place. After authorization, the employee can efficiently perform various activities with UAN:
Employees can complete their KYC with UAN.
You can change the date above of departure from a previous establishment.
In the event of death or retirement, the employee may fill in the candidate fields from there.
In case of a financial emergency, you can request an advance payment.
Employees can transfer previous PF amounts to their current PF account and request a complete account statement.
They can use the website to update their new phone number.
How to Generate UAN with an Aadhaar Card
Anyone can auto-generate a UAN using the Aadhaar card details and the mobile phone number registered with UIDAI. The steps are:
Access the EPF portal for an employee
On the next screen, enter the Aadhaar number and click on Generate OTP.
An OTP will be acknowledged on your registered mobile phone number.
The next screen would display details about the user based on the Aadhaar number. The user can change any detail they want.
The user clicks "Register," and a new UAN is generated and assigned to the user.
UAN Login Process for Employees: How to First Enable UAN For Login
To activate a UAN, you have to do the following:
Go to members' home page
In the Important Links section, click the Enable UAN link in the right corner.
On the next page, fill out all the required fields and click "Generate Authorization PIN."
enable UAN
Enter the PIN you received on your registered mobile phone number and click Submit. The system-generated password will be sent to your mobile number.
You can now log in by entering the new password you received.
It is optional to change this system-generated password.
Mandatory Documents are Required to Receive Your UAN
After joining your new company, you'll need to submit some documents to get your Universal Account Number (UAN). These are:
(ESIC) Card of the State Workers' Insurance Corporation
Bank information: bank account number, IFSC code, and branch name
PAN card: Make sure it is linked to your UAN
Aadhaar Card: A mandatory identification document; Make sure your mobile phone number and bank account are linked to your Aadhaar
Proof of ID: any proof of national identity with a photo attached, e.g., B. Driver's license, passport, Aadhaar card, voter card, etc.
Proof of address: Any proof of identity with an address, rental agreement, or utility bills in your name
How do You Check the Status of the UAN?
The process to verify your UAN-PF status is simple. Once logged into the UAN portal, click "Know your UAN" under "Important Links."
You can enter any of these details: FP number, Member ID, PAN, or Aadhaar number.
If you choose the "Member ID" option, you must provide additional details such as B. the state where you reside, office details, personal details, etc. You can retrieve your member ID and PIN through your payroll.
After providing all the details in the previous step, click "Get Authorization PIN."
You will receive a one-time password on our registered cell phone number. You must use this OTP and click the "Validate OTP and get UAN" button.
The EPF UAN status is sent to your registered number.
E-Sewa Portal Services for UAN Members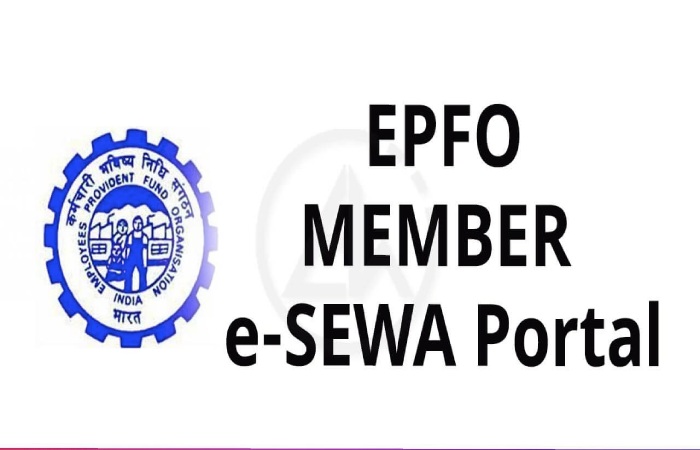 When a UAN has been assigned, an employee can log into the EPFO portal and access various UAN services in four segments: View, Manage, Account, and Online Services.
Let's take a look at each one.
A). View
In this segment, you can:
Consult your "PROFILE" that contains your data available in EPFO. You can also edit specific details.
View your "SERVICE HISTORY" with all previous employers in chronological order.
Preview and download your "UAN CARD."
View and download your EPF Passport Booklet.
B). Manage
As the name suggests, this tab allows you to change personal information, e.g.:
Basic Information: Name, BOD, and Address
Contact Information: Email id and mobile phone number can be changed in this segment.
KYC: You can upload KYC information and documents like an Aadhaar card, bank account, PAN, etc.
Electronic Nomination: Update/enter candidate information.
Highlight the output: Update the departure date if you change jobs.
C) Account
In this segment, you can "CHANGE PASSWORD" for your EPFO member account.
D) Online services
Conveniently access various EPFO offers that were complex in the past.
CLAIM (Form 31, 19, 10C, and 10D)
It can be used to withdraw funds from PF partially or fully online. However, your UAN must be linked to your Aadhaar.
ONE MEMBER – ONE EPF ACCOUNT (TRANSFER REQUEST)
Members can transfer FP funds from their previous employer to their current one. Please note that KYC needs to be updated and fixed. Also, only one transfer request can be made, even for the latest PF account.
Claim status tracking
If a claim has been filed for a withdrawal, progress can be tracked through this option.
Download Annexure K
This document contains member details such as service history, PF accruals with interest, date of entry (length of service), date of departure, and past and present member IDs. It is used by PF Trust (or outpost) to speed up the transfer of PF accounts.
UAN Customer Service Details
For further assistance, you can contact UAN customer service
Free assistance service: 1800 11 8005
Email ID: Employeefeedback@epfindia.gov.in
You can also raise an issue on the official website https://www.epfindia.gov.in/
Please note that technical support is available from 9:15 a.m. to 5:00 p.m. m. to 5:45 p.m. m.
Frequently Asked Questions About the UAN Member Portal
How do I associate a UAN with Aadhaar?
One must visit the UAN Member e Sewa portal and log into the account with the UAN and password. Then click on "KYC Details" in the "Manage" tab. So UAN can be bound to Aadhar.
How to get the UAN Mobile Phone Number?
Members registered on the UAN portal can retrieve their EPFO data by making a missed call to 011-22901406 from their registered mobile number.
What are the requirements for using the Miss Call feature?
To use the Miscall function:
The mobile phone number must be activated with UAN in the Unified Portal.
One of the following KYC documents must be available to the UAN.
Bank account number
Aadhar card
PAN
How can I Reset the Password on the UAN Member Portal?
To update your password on the UAN member portal, click the "Forgot my password" option in the login area and enter the UAN code and Captcha. Then, enter the OTP sent to your registered mobile phone number and click "Send." Finally, enter the new password and log in to the UAN portal.
Can a Member Register on the E-Sewa Portal and View their Account?
Yes, members can check their UAN-related information, such as Member ID, Employer Information, Personal Information, or UAN Card, in the View tab. For detailed information on the above options, registration on the e-Sewa portal is required.
How do I Update Personal Information on the UAN Portal?
Members can only update their personal information, such as mobile phone number and email id, in the Manage section. Select "Change Contact Information" in the area. An Approval Code will be sent to the new number. Enter the given PIN in the space provided, and your number will update.